Latest update –  3/4/20 
We are manufacturers, not resellers, so all products can be made available on request.

To comply with Government regulations, most staff have been sent home & we are self-isolating with NO contact with others.

Some of our suppliers are closed. This may affect what we can provide on  the website.

Royal Mail and DPD are still collecting but International services are unknown. ALL DELIVERIES ARE ON BEST ENDEAVOURS BASIS ONLY AND YOU SHOULD ALLOW EXTRA TIME FOR THIS.

Royal Mail Guaranteed Next day delivery by 13:00 IS NOT GUARANTEED FOR THE FORESEEABLE FUTURE. See here
Discount code
This is now discontinued and available on our newsletter only. You have the opportunity to sign up at the checkout or by your order notification email.
Privacy Policy
For your security & privacy, credit card details are NOT stored on this website. When you are passed to the relevant merchant for payment, you will be on a secure encrypted page. This website is also encrypted using HTTPS.
We do NOT share customer details with any 3rd parties. Not at all. Never.
Our full policy can be viewed here
Order Processing
We are not just a website. We take many telephone and mail orders. You can pay by credit card, online bank transfers, cheques and sometimes we even take cash! Please make cheques and postal orders payable to "UK Colloidal Laboratories Ltd".
We work weekdays only & aim to process your order within 24 hours, although most orders are sent the same day.  During periods of great demand, fulfilment times may be extended purely because of limited manufacturing capacity. We always prioritise existing clients over new clients during these times & reserve the right to remove all timescales.
We keep limited stock, as we want our product to be as fresh as possible when it arrives. Although the website is always open, we do not process orders at the weekends. We feel our staff work hard enough and we want them to enjoy their lives.
Generally, most orders are sent the same day but orders placed after 15:00 may not be processed until the following day. If you have an urgent order, we may be able to prioritise it for you by calling us.
Between October and March, product demand more than doubles and Monday's are always extremely busy as we have to process all the weekend orders.
Delivery Policy
UK Orders
Our products have free UK mainland delivery included on orders over £15. This service is either with the Royal Mail 24/48 hour service for items under 2Kg or with DPD Local for all items over 2Kg. For Northern Ireland and Highlands & Islands, we use various well-known couriers from the selection below. All UK orders should be delivered within 7 working days. There may be a small charge for non-uk mainland orders, calculated at the checkout.
Cut off time for order deliveries Monday – Friday:- (We do not work weekends)
DPD Local by 14:00
Royal Mail by 16:00
Next Working Day Delivery (Mon-Fri) – DPD Local offer the best value Next Day (Tracked) service BUT because they pick up at 15:00, the cutoff time is 14:00 but if you ring us. we will try our hardest to get your order out, otherwise, it will be sent the next working day. Deliveries sent on a Friday will be delivered on Monday.
All Orders received after Friday 15:00 will be sent Monday. This includes all orders with postal upgrades.
EU Orders
All orders outside of the UK will have an additional postage charge automatically calculated depending on weight, destination  & service selected. Certain countries require customs declarations which may slow down delivery.
Orders outside of the EU
The website will approximate shipping charges but we reserve the right to update this charge if it is significantly different from the real cost. All orders sent outside of the EU will require customs clearance and may be delayed. We have no control over this and you must expect this delay as part of the service we provide.
Delivery Address
The billing address stated in your order should always be the registered address of the payment method used.  If you wish to use an alternative address please note the following:-
Work address – Ensure your post room knows who you are and where you work. Once delivered to your address, we cannot accept liability for lost packages.
Pickup points:-
Royal Mail – You can have the parcel sent to a Royal Mail Post Office for collection. You will need ID as proof of identity.
DPD – Always give your registered home address. You will receive an email from DPD where you will have the option to have the parcel delivered to a collection point of your choice. You will need ID to collect this item.
Alternative addresses – Packages can be sent to friends and family. Please ensure they aware of the delivery.
Non-Delivery – What to do if your order hasn't arrived.
NOTE: During December, Easter & after periods of bad weather, delays MUST be expected. 
Royal Mail – If you are expecting your order by Royal Mail and it hasn't arrived by the 3rd working day, we would recommend you try the following.
Although the Postman is supposed to leave a calling card, many do not and we recommend you check the following as it will be the quickest way of resolving the problem. You will need some ID such as a driving licence.
Check any safe place it may have been left. i.e. porch, garage, the recycling bin.
Check it hasn't been left with neighbours.
Check with your local Post Office, as this is where parcels are returned to if they can't be delivered.
Ring us on 01460 281098 and we see what we can do.
All other couriers – If an order hasn't arrived please contact us on 01460 281098 and we will track it for you. It is our responsibility to get the order to you and if 7 working days have elapsed, we will resend the order for you. This does not affect your statutory rights.
EU Orders – Orders under 2Kg will be sent using your standard postal system. Delivery is usually within 3- 5 days but we have to allow 28 days as some countries are slower than others.
Rest of the world & EU orders over 2Kg are sent by tracked courier and delivery can be monitored.
If your order is deemed lost or broken, we will gladly replace it for you. Please refer to the Delivery Timescales for more information.
Delivery Timescales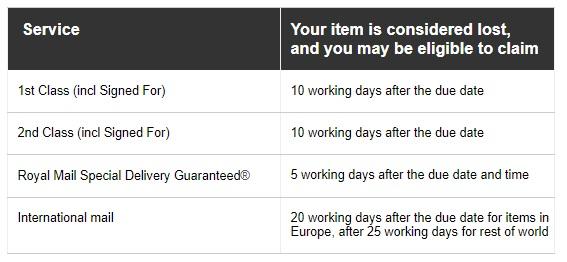 Royal Mail delivery is generally next day for 1st class and  2-3 days for our free inclusive service. These are AVERAGE delivery times and should not be relied upon. Always upgrade if your delivery is important.
Exceptions do occur at busy times of the year such as December and Easter and you are advised to upgrade to 1st class or Guaranteed Next Day service if the delivery is important. 
Please refer to the Royal Mail table to the left and the link to their website for full details.
For non-delivery of an item, we will be happy to replace the item once the item has been considered lost but we do encourage you to read the NON-DELIVERY section below.
Royal Mail Special Delivery Guaranteed by 13:00 – is a WEEKDAY only service. They do deliver on Saturdays but only at their discretion (So it's NOT guaranteed). Last pickup is Friday 15:00 and orders received after that will be sent Monday for Tuesday delivery. See Info here.
DPD is a tracked service and is generally very reliable. Their delivery timescales can be viewed here. For all other couriers, please refer to their website for details. If you have provided an email or mobile tel number, you can track your order and amend delivery.
Fraud & Security
We reserve the right to refuse any order if we consider that an illegal act has been or may be committed.
Returns, Refund & Cancellation Policy
In accordance with the The Consumer Contracts Regulations, you have a 14 days after receipt of the goods during which you have the right to cancel your purchase and receive a refund. You don't need to give a reason to cancel your purchase but all items must be in a saleable condition with none of the seals broken.
You MUST notify us of your intent to return the item, so we can reopen the order and await the return. You can do this by email, Contus us form or by phone.
Send to the address below, including your order number so we know whoes account to credit. It may be a good idea to email us first so we can expect the package. It is your responsibility to ensure the goods are returned to us in saleable condition. Seals must not be broken on the bottles.
UK Colloidal Laboratories Ltd
Returns dept – Order ***** (Put your order number in here)
Unit K, Forest Enterprise Park,
Ashill, Ilminster TA19 9LP
Orderline & Customer Services 01460 281098 or email [email protected]
Once received, we will refund your payment immediately BUT it may take your chosen bank 5-10 working days to process this refund. This is down to your choice of bank & their inability to process refunds quickly. Certain modern payment methods such as PayPal process these refunds immediately.
Coupon Codes
We issue special offer coupons in our newsletter from time to time. Coupons apply to normally priced products and cannot be used for sale or reduced items. We reserve the right to refuse a coupon if we feel it has been obtained in an underhand manner.
Company Information
UK Colloidal Laboratories Ltd is a Limited company registered in England and Wales.
Company number: 6105386. VAT Registration 986 7426 58
Registered Office:-
UK Colloidal Laboratories Ltd
Unit K, Forest Enterprise Park,
Ashill, Ilminster TA19 9LP
Orderline & Customer Services 01460 281098
Email [email protected]